Ebony dyeing
Ebony or Makrua (in Thai) is one of Thai traditional natural (vegetable) dyeing. Ebony dyeing creates elegant natural color ranged from light grey up to variety of brown shades and finally becoming in black.
Traditional Thai life with Ebony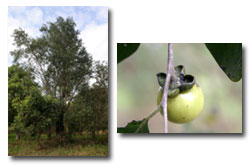 The story of Thai ebony & its traditional dyeing Ebony fruit's dyeing has its long history as a part of northern Thai lifestyle. Particulaly in the old days, northern Thai villagers have used ebony dyed working wear for their daily farming work. The working wear consists of one simple round neck with short sleeves shirt and a fishermen styled pant.
(The photos show ebony tree & its fruit)
Ebony fruit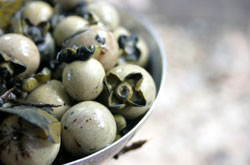 Generally the fruit is harvested once a year during October until November. The harvested ones are preserved in water in order to be able to continue dyeing for the whole year. Different from other natural dyeing, ebony dyeing quite strong to light expose.
Ebony black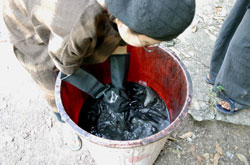 Basically ebony dyeing process is similar to indigo's. It is done in cold dyeing. Frequency of dyeing with the sunlight expose makes color become darker and darker.
Turn to black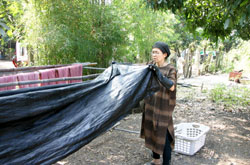 The photo shows a process of Thai silk fabric dyeing. To make it become to natural black, it needs over 25 times of dyeing. In the past, Thai people's perception of ebony (Makrua) color is natural black.
Copyright (C) Lanna Brown 2010 Chiangmai Thailand